Meet Our Dental Team – St. Cloud, FL
Get to Know
Your Dental Team
At Brue Family Dentistry, our team of dental hygienists, front desk associates, and financial coordinators work together to make each of your visits hassle and stress free. They're excited to meet new patients and get to know everyone that walks through our practice doors, whether it's their first time or they've been coming to us for a while. To learn more about what our team likes to do outside of the office and why they're passionate about helping patients achieve optimal oral health, read below!
Gloria, Front Office Administrator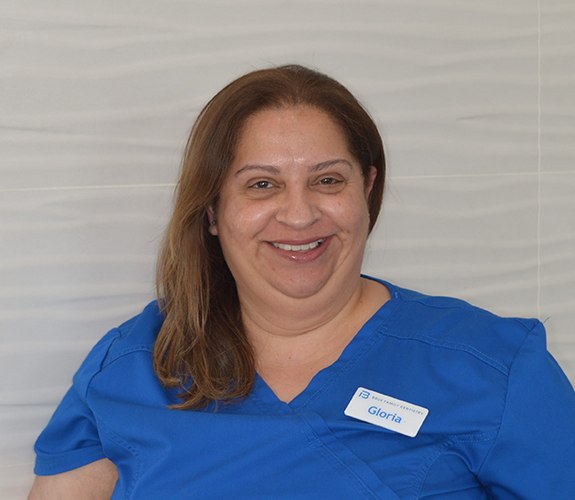 Glorias has been working in the dental field for two decades now, and she loves being able to help patients have great experiences here at Brue Family Dentistry! Away from work, her biggest priorities are spending quality time with her two grown children, reading, traveling, and making memories alongside loved ones.
Christa, Expanded Functions Dental Assistant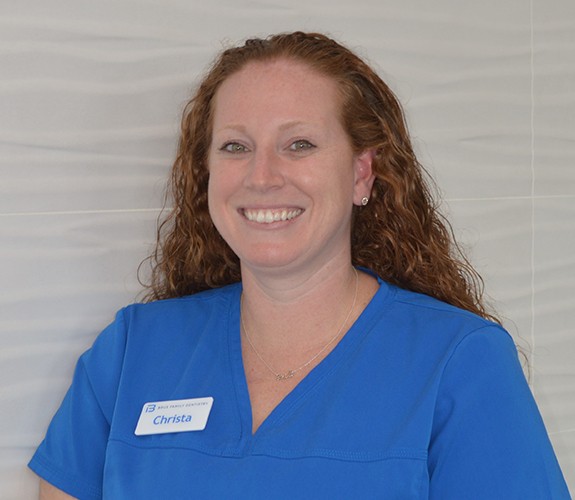 Christa's career in the dental world spans 10 years so far. As an assistant, she never gets tired of being able to help people smile brighter! At home, she is married to her high school sweetheart, and they have two boys who love playing sports, as well as a family dog named Nikki. In her free time, you can almost always find her enjoying the outdoors.
Karla, Dental Assistant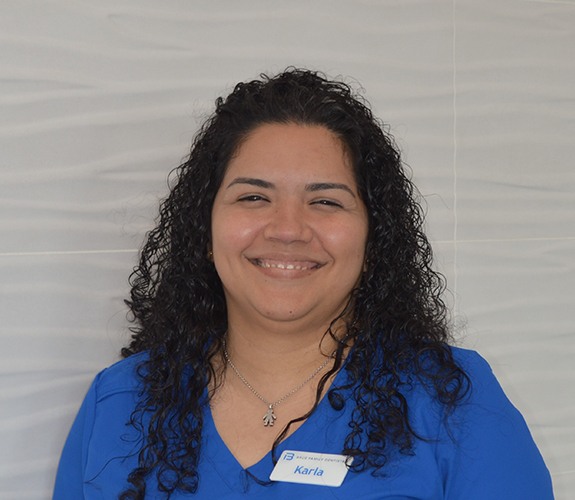 Karla is a recent graduate of Concorde Career College in Orlando, FL and is so excited about her new career in the dental field! While in school, she completed an internship at Brue Family Dentistry and did such an incredible job, we did not want her to leave so hired her full time when she graduated! She treats everybody "like family" and loves helping people feel comfortable while they are in the office. At home, she spends time with her son Jan and dogs Mia Coco and Max. They love to travel, go to the beach, bowl, and bake cakes together!
Wendy, Registered Dental Hygienist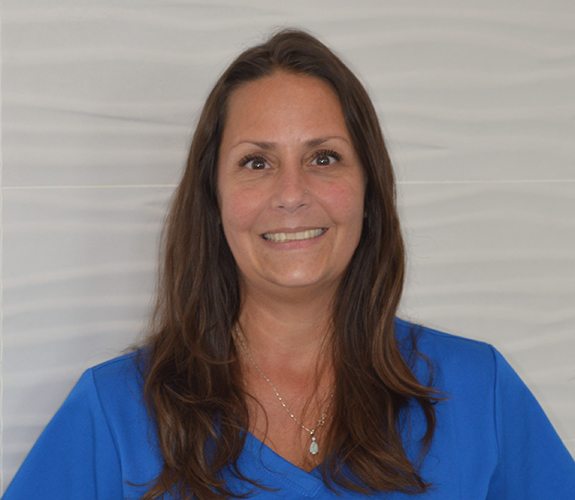 Wendy has been a dental hygienist for almost 3 decades and loves being able to help and educate patients on their dental health. She is a native of Melbourne Beach, FL and has a close-knit family who all share a common sense of humor and unconditional love. Outside of dentistry, she enjoys music, travel, outdoor adventures, gardening, tile work, and cooking! Wendy is always able to see the positive side in every situation and we love her sense of humor!
Connie, Registered Dental Hygienist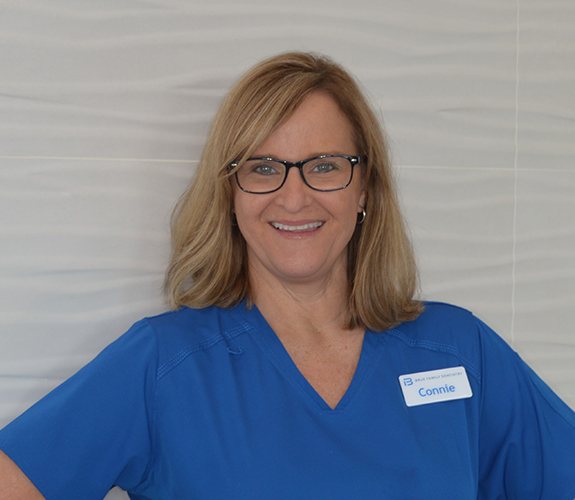 Connie has been in the dental field for over 3 decades and loves to help patients achieve their highest level of oral health which, in turn, helps with overall body health as well. She is a native of Columbus, OH (Go Buckeyes!) and is a proud spouse of a disabled military veteran and mom to two grown sons, a dog and a cat. Outside of dentistry, Connie and her husband enjoy traveling, especially cruises! Most of their "out of work time" is spent playing board games, listening to music, and enjoying the outdoor space at their home. Connie also loves to cook and bake as well while she hosts get togethers at her home!
Cammy, Registered Dental Hygienist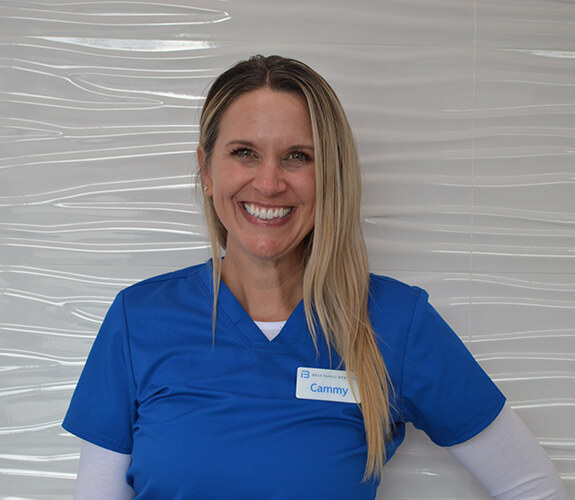 Cammy has been a dental hygienist for 20 years and loves meeting new people and the rewarding feeling of helping her patients achieve healthy oral hygiene habits. She is a Georgia native (Go Dawgs!) and has two teenage boys who love basketball. Fun fact - Cammy met her husband in 2nd grade and once they started dating in high school, never looked back! Away from dentistry, Cammy loves watching sports, especially when her boys are playing, and going to the beach with her family. Their newest addition, a labrador named Baylee, has been keeping the whole family on their toes, chewing up socks and anything else he can find!
Michelle, Front Office Associate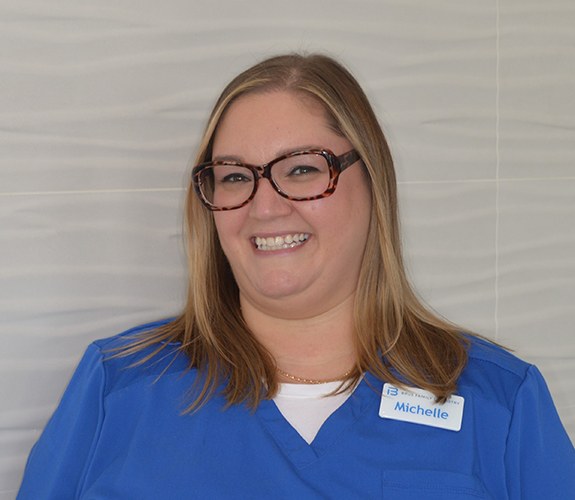 Michelle has been in the dental field for over 16 years and enjoys being able to help new patients have an amazing experience at Brue Family Dentistry. She was originally born in Bayamon, Puerto Rico and moved to Orlando when she was a child and today calls St. Cloud home. Michelle and her husband have been married for over 10 years and love to travel, read, and spend time with family and friends. She also loves to go cruising and has been to the Caribbean, Mexico, and Europe! Fun fact about Michelle: She loves banana flavored anything! Candy, soda, bread, smoothies, donuts, you name it! (She always makes sure to brush and floss afterwards though!).
Damian, Hygiene Assistant/Sterilization Technician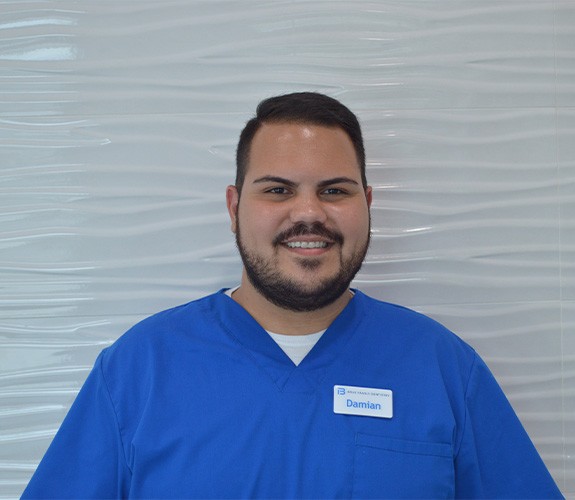 Damian grew up in Saint Cloud and attended Harmony High School and is a recent graduate of the University of Central Florida where he received a Bachelor's Degree in Health Sciences so that he can attend dental school some day! He loves the 'real world' experience he is getting at Brue Family Dentistry and welcoming patients into the practice where they will be provided with life altering care. When not in the office, he enjoys traveling, movies, sightseeing and spending as much time as possible with his dog Ace.