Dentist – St. Cloud, FL
Get to Know
Dr. Brandon Brue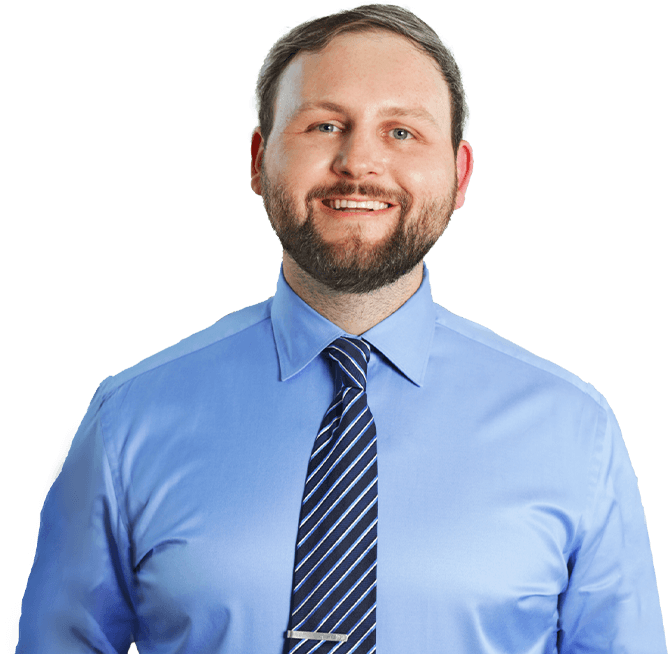 Dr. Brandon Brue's passion for dentistry stems from the fact that whether he is getting a patient out of pain or revitalizing their confidence, in a matter of minutes, he has the ability to truly change someone's life for the better. This is tremendously fulfilling, and he's thrilled that he gets to serve the community where he grew up.
Why Did You Want to Become a Dentist?
Dr. Brue has dreamed of becoming a dentist since he was eight years old. Even though his sister, Dr. Stephanie Brue, was able to achieve this first, the joke is that she got the idea from him! Teeth piqued his interest because they are so important in our lives—we use them to communicate with our loved ones as well as to fuel our bodies with vital nutrients…what's not to love?
Before going to dental school, he spent hundreds of hours shadowing and assisting in dental offices, and he gained a new level of appreciation for how the profession blends art and science together. Seeing so many patients break down in tears because they were finally happy with their smiles left an impression on him as well. Ultimately, Dr. Brue wanted to be able to make that same kind of positive impact on people himself.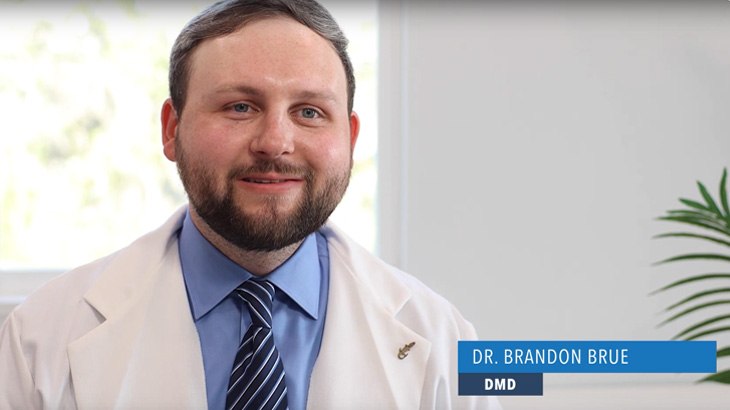 Where Did You Study Dentistry?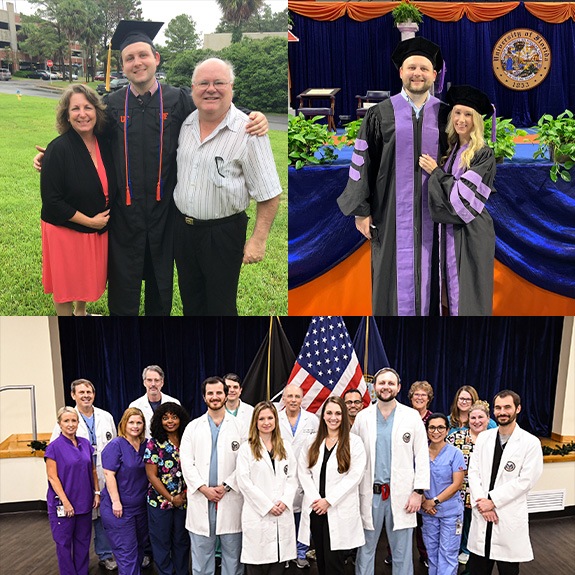 Dr. Brue earned his bachelor's degree in pre-professional biology as well as his Doctor of Dental Medicine from the University of Florida. He then completed a General Practice Residency (GPR) at the Malcom Randall Veteran Affairs Hospital in Gainesville, FL during which he trained directly under oral surgeons, periodontists, and prosthodontists.
To date, he has taken over 100 hours of continuing education dedicated to dental implant placement and restoration as well as full-mouth rehabilitation. On top of this, he is an active member of both the American Dental Association and Florida Dental Association and works closely with the Orlando VAMC.
A Few of My Favorite Things
Dr. Brue and his lovely fiancé, Dr. Audrey Bridge, sat down next to each other on the first day of dental school, and the rest is history! They got engaged in 2022 and became dog parents to a Golden Retriever puppy named Butters in 2023. Other than dentistry, his biggest passion is spending time with his family. To relax, he enjoys hiking, watching the Florida Gators play, going on cruises, scuba diving (he's been cage diving with sharks twice!), and playing pickleball.