Advanced Dental Technology – St. Cloud, FL
Using the Latest Technology
for Accurate Diagnoses
There's a reason why our new office is equipped with the latest dental technology available, and it's to make each one of your visits more thorough, precise, and faster. By transferring to all digital technology that allows us to spot even the earliest signs of oral health problems, we're able to treat the smallest issues, making sure that your smile stays as healthy as possible. To learn more about some of the technology we use for different treatments, keep reading below.
How Technology Makes Our Dentistry Better
Predictable Results With 3D Imagery
Advanced Training to Treat the Symptoms of Snoring
Clearer & Safer Digital X-Ray Imaging
Intraoral Camera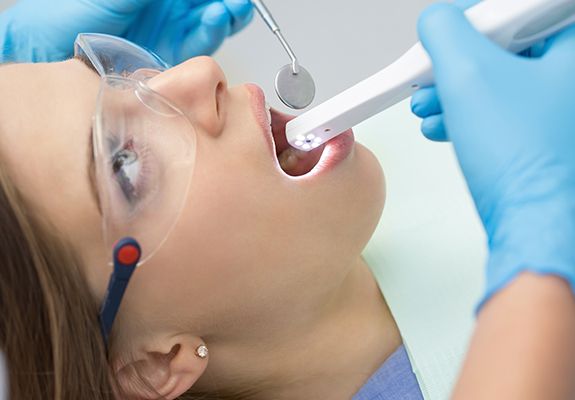 Certain areas of your mouth that are more hidden, like small nooks and crannies between and around your molars, aren't always visible to the naked eye, even a trained professional's. That's why we utilize our intraoral camera, which is a small, handheld device that we can maneuver around your mouth to gain a clearer, magnified view of troublesome areas. It's attached to a chairside monitor that also allows you to see what we're looking at in real time, aiding in helping our team explain how a recommended treatment will work to fix the issue.
Digital X-Rays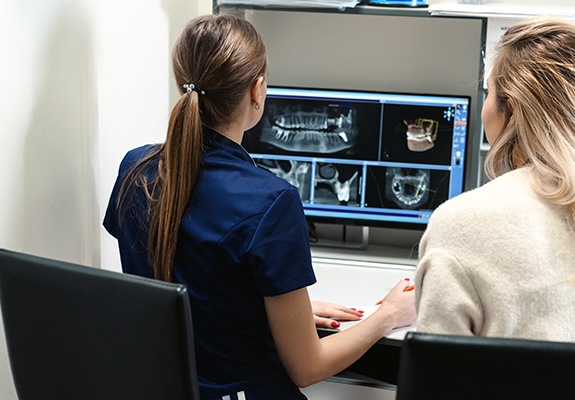 In the past, dentists captured film X-rays that used chemicals that were harmful for the environment, took longer to develop, and exposed patients to higher amounts of radiation. At Brue Family Dentistry, our top priorities are your safety and making sure that no oral health problem goes left untreated. With our fast and clear digital X-ray system, we're able to quickly capture images of the area below your gums to spot impacted wisdom teeth, tooth infections, and other issues that aren't visible. Plus, it reduces radiation exposure by up to 90 percent, making it safe for children and adults.
CT/Cone Beam Scanner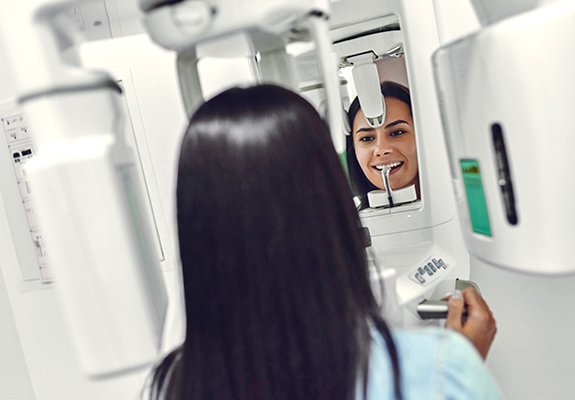 For more advanced procedures like dental implant placement, we utilize our CT/cone beam scanner to capture a panoramic, 3D blueprint of your facial structure, including nerves and tissues. This allows Dr. Brue-Vinokur to strategically and precisely plan your surgery to ensure the best possible results. This device can also be helpful for patients who suffer from TMJ pain or need to have wisdom teeth extracted.
Sleep Apnea Treatment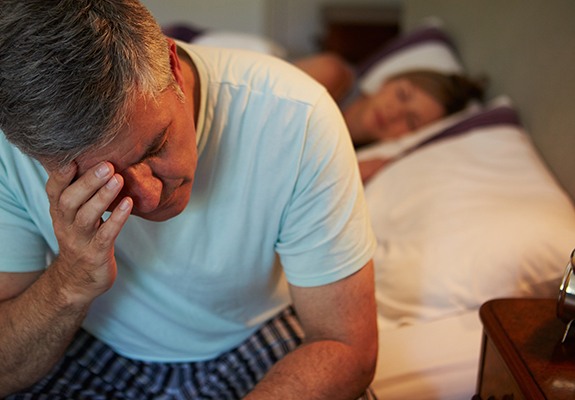 It's estimated that over 22 million people in the country suffer from sleep apnea, with up to 80 percent of those cases going undiagnosed. Many patients aren't aware that gasping for breath while sleeping, daily fatigue, and other common symptoms of obstructive sleep apnea can take a toll on your wellbeing. We offer customized sleep apnea therapy so you can get the quality of rest that you deserve and reduce your risk of serious medical conditions like strokes.